Picture Smart Bible Newsletters
Dan Peters sends out quarterly newsletters to give you encouragement in your personal walk with the Lord and to keep you up-to-date on the influence of
PictureThis! Ministries.
If you would like to receive these quarterly updates, send an email to Dan with "Newsletter sign-up" in the subject line. (to read that months newsletter click on the months names.
May/June 2012 - Abhijit Nayak, our beloved brother from India, just returned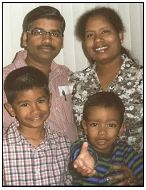 from his home land. He was a VERY busy man. His report:
1. Meetings with key pastors. The reception has been extremely encouraging: "We want The Picture-Smart Bible. We have nothing like this for our children".
2. Building Development. Abhijit and his friends celebrated a exciting ground-breaking event! Plans have been drawn, building materials delivered and land plots established for the new building in which PictureThis will share a office and storage. (read more)
March/April 2012 - When teaching in Honduras a few weeks ago, one of the messages the Lord gave me related to the three heavens. Here is a recap.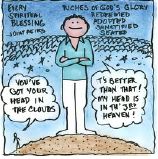 1st Heaven. This domain is our natural habitat and is best described in Genesis st 1:1-25. It includes everything to the edge of our universe, wherever that may be. God has given us dominion over everything in the 1st and 2nd heaven.
2nd Heaven.We assume this area was in between the first and third heaven because the prince of Persia stopped Gabriel on his way to the earth with a message from God (1). This domain of Satanic beings is described in Ephesians (2). The good news is Jesus "disarmed principalities and powers" and "made a public spectacle of them, triumphing over them in it" (3). (click on March/April to read about the 3rd heaven and the rest of the newsletter)
January/February 2012 - God show's Dan new pictures to use for the orphanage training in Honduras! Finances needed for India translation project.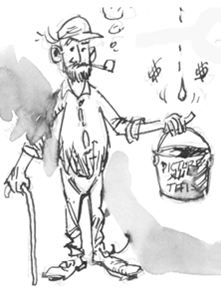 This cartoon came with a gift from my brother (an excellent watercolorist), now retired from the Boston Globe as a staff cartoonist. You may feel your gift is a "drop in the bucket" to our total need. No problem. Enough drops will fill our bucket and we will walk through the doors God has opened. All of your gifts are deeply appreciated. For a gift of any size, we would like to send you "Learning the Word for Life" Book 1- our way of saying "Thanks" (and encouraging you to memorize God's word). Dan & Juanene
(use the donate button on the left to make an online gift)
November/December 2011 - Preparations for Honduras.
September/October 2011 - Growing list of testimonials from across the country. Read them here!! Also click the testimonial tab for more.
March/April 2011 - Thirty year dream fulfilled: trip to Israel. Impressions and highlights.