Additional Resources
Included with the Manual
Maps - Show where the Bible stories take place geographically.
Timelines - Plot Biblical events on a timeline to show the order of events and their relationships to each other.
Click here for Timeline example
Intertestament Bridge - Gives you some historical details on the events of the "Silent" years between Nehemiah and Mathew and how God prepared the way for the coming of the Messiah.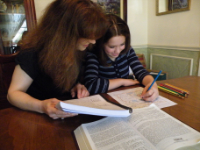 "The Picture Smart Bible!" is a comprehensive overview of Biblical history, geography, doctrine, important verses and major themes of each Bible book."

Debbie, homeschool mother